Posted on | June 22, 2016 | No Comments
I finally found the right place for me to place a clock inside our toilet. I have been wanting to have one back in Cavite but we just never had the perfect clock and the perfect place. Now, everything fits and one good thing leads to another.
Thanks to wifey's eagerness to free up more boxes that are still waiting to be unpacked and sorted she had this very creative idea to place some of Marcus' toys on the coping inside our toilet. The motorcycle clock is not alone anymore.
***
Mood: 2/10 Honks! (Time flies, just reached my 5th year at work.)
Posted on | June 13, 2016 | No Comments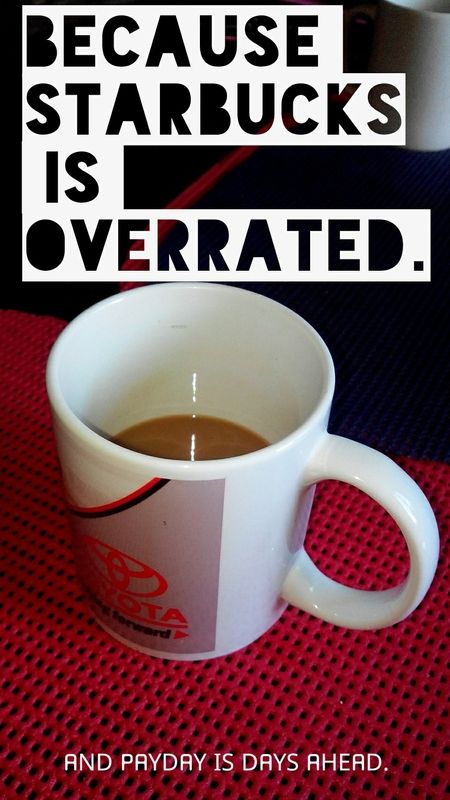 Posted on | June 12, 2016 | No Comments
I checked the clock and the day has just gone past its first 30 minutes. As usual, my short trip to the parking lot was full of anticipation. In a few hours, when I wake up inside the car, my night shift ends and once again, it's the weekend. For the nth time, another two work-free days coming in close. Like any participant of this rat race, I look forward to Saturdays and Sundays.
Look forward to. Three short words, an anticipation of something exciting or just plainly to express relief that once again a somewhat boring routine will once again end—more often than not, to be started by another routine. Maybe life after all is a cycle of routines, boring routines (oh pardon the pun, the redundancy, the pleonasm).
Let's face it. Anything that is routine bores. Even those doing the most intense in the eyes of other people would yawn at some point of their activity. I wouldn't be surprised if triathletes get bored at some point of their run ("Ho-hum, I think his tribike is better than mine"). CEOs would get tired seeing the same range of profits thus the explainable craving for more ("Check our credit rating, call this guy from Dun and Bradstreet…"). And there are in fact artists who hate their own famous songs—I googled, mentalfloss.com has a list. Yup, that's just how boredom works.
So what do other people look forward to at the end of the day, at the start of their mornings? How about our son? Such thought struck my mind when I remembered Marcus as I caught myself staring blankly at the colorful sweet 'n sour wriggly worms in the convenience store's shelf—few minutes after my broken MyPhone screamed its ever annoying alarm tone. His life cannot be Xbox and Roblox and Lego games all the time. I know that sooner or later even our new cable subscription will become lame and boring. More so, that starting this week is when every kid in the neighborhood goes back to school except him.
There must be a way that we can bring some new routines to Marcus' life. We must make more effort to make him look forward to something exciting, if not new, in his daily routine. I have already suggested to him that he starts reading books each day so that he discovers something other than those coming from his YouTube feed (FYI, he has started his own channel). At the onset, as we have expected, he protested at our (boring) idea but yesterday I heard from wifey that he is excited to spend his one-hour reading period this Monday. Our fingers tightly crossed.
***
I eventually brought home the Potchi gummy worms and Marcus said to his mom that the candies are right out of their Slither.io game.
***
Woke up in the wee hours of the morning when I noticed Marcus stretched out in bed and I realize just how taller he has become.
***
Mood: 4/10 Honks! (The lambanog did not do its job, will need more sleep later).
Posted on | May 31, 2016 | No Comments
It just sucks when something you cherish goes away too soon. Like when everything seems to be fine and then boom, the unexpected happens. It's gone, never to return again. It's when you wish it's just a bad dream.
Reality is just that.  In real life, there is disease. In real life, there is loss, irreversible loss. Real life isn't real if there is no death.
Wherever you are Vader, if that dog heaven does exist or not, or if you can see the gap you left in our hearts or not, and whether you can even read this blog for you or not, you will be remembered.  I will miss our trip to the pan de sal store.
***
Mood: 8/10 Honks! (Let sleeping dogs lie.)
Posted on | May 27, 2016 | No Comments
We discovered that Marcus could possibly be a meme artist in the making. With the use of an app on her mother's phone, he has been making meme when not playing Slither.io or Color Switch. Despite not spending much time anymore on books after he started to skip school since late last year, I am impressed that he can compose phrases and sentences with almost good grammar and spelling. The pictures below were taken by wifey and Marcus' imagination did he rest.
Kids have imaginary friends and Marcus, besides his Legos, is a fan of random stones. I remember him having separation anxiety for one stone we left under the bed in Bacolod.
If cockroaches can have their own show, why not curtains. Maybe someday will see one on Cartoon Network.
The first Alpha-Lipoic pill he took gets a face, too.
And if his skill picks up, I would expect that I would soon become a meme material.
Maybe time will come when I would make him an official contributor to this blog. Few more practice on his artistic skill and English composition and this blog will soon have more activity.
***
Marcus' fondness in making memes isn't the only thing that wifey has observed. Thanks to parental setting, she has traced that he already made his mark online by commenting on his favorite YouTube channel. I saw one of his comments in which he corrected the spelling of a another poster. One person commented in return that he himself misspelled a word and goodness, he was so disappointed. Seems like we have grammar police in he making.
***
Mood: 3/10 Honks! (The overtime disrupted my sleeping pattern.)
Posted on | May 23, 2016 | No Comments
It's not every time that one man's trash is another man's treasure. Sometimes trash is just trash that needs to be disposed, ideally, properly but this will only happen if and when the right options are there. At the very least, there should be regular garbage collection or a nearby recycling facility. So what if none of these are present. How does one dispose trash?
Proper trash disposal continues to be one of the main concerns where we are at right now. We are close to our second month in our new address but so far we only had a visit from the local government's garbage collector and that was only after we agreed to pay them. The last time we saw the little garbage truck was more than a month ago.  We live in a compound with my in-laws and I learned from them that the garbage truck only picks up the trash of gated subdivisions located nearby while residences situated along the way are left on their own. The good news is that I haven't seen any trash bag on the road sides but I haven't checked the nearby creek just because I don't want to. I just know what to expect.
So there was no big surprise when I saw this video on Facebook of a man carelessly throwing garbage bags from a bridge—on broad daylight. It was the sight I hate to see but it was a reaffirmation of what could be happening in most places where people are deprived of proper and regular garbage collection. From what I have heard some families do pay a mangangalakal (individuals who collect recyclable materials) to dispose their trash which usually ends up somewhere but the garbage landfill.
I am very particular about how I dispose trash. I make it a habit to sort recyclables and non-recyclables. Back in our old residence, our garbage footprint had been the lowest relative to our neighbors of the same family size. In fact, there would be  times when the garbage truck would miss to pick up ours and they would return the next week with the trash bin still not overflowing. Sadly, we cannot and do not have the same control anymore.
As much as I hate to I have resorted to another approach. It's the lesser evil than throwing garbage into the creek but an evil nevertheless. Our son Marcus has asthma condition and very prone to getting sick once exposed to smoke and other airborne irritants so burning trash was never an option but we really have no choice. I already fabricated an incinerator barrel and we have been using it for weeks already. It was effective though I know that this isn't right and shouldn't stay long term. I am planning to talk to an officer of the local government to help us but I have been indirectly advised that for now this could be a futile attempt. Politics, I get it but there is hope. I heard that the incoming administration has solid waste management as one of its top priorities. I am crossing my fingers that this will materialize but until then our garbage dilemma remains.
***
Mood: 3/10 Honks! (Marcus is still sleeping. He's getting better after one week.)
Posted on | May 22, 2016 | No Comments
Our transfer to Batangas has made me do more things on my own. The first few weeks I got myself pretty busy. I became the real Handy Manny, I can be seen with tools that where never out of the toolbox for so long. I got drill, screwdrivers, hammer, and ladder as my usual companion—they don't talk though unlike in the cartoon show. There were fixtures to caulk, frames to hang, curtain rods to install. All these I did even on weekdays just before or after I report to night shift.  I was a regular at the hardware stores.
Then there's our car to take care of. I realized that I actually have an answer to wifey's question: "Do you miss Cavite?" I used to say "no" without any hesitation but now I seem to wish I am still close to Honda Cars Cavite. The car dealership wasn't perfect but it was home for our Honda City for almost six years. There's a Honda dealer here in Batangas but I decided against availing its services after talking to one of its service advisors. He doesn't not show good customer service, he gave a pricey quote, and he spelled spark in spark plug with a 'u'. Yes, I get easily turned off by price and wrong spelling.
Soon I found myself under the hood of the Honda City, this time I become Guido. After eight years, I am taking over the car's preventive maintenance. I discovered that the task wasn't easy. I had to familiarize myself with the car and had to read its manual more thoroughly for the first time after I almost loosen the wrong nut thinking it was the oil drain plug. The design of the City's engine also made it harder to access its eight spark plugs as these are deeply seated unlike the ones in our Kia Pride (duh). I almost quit changing the four spark plugs located behind the engine block. That week I went to work showing everyone a dirty finger, fingers to be exact. I will wear gloves when changing oil next time.
But other maintenance jobs are better left to the experts and the better equipped. Yesterday, I watched a car parts store's mechanic figure out how to change the car's gear oil. He later conceded that they do not have the tool to drain the oil. It was about an hour and a half wasted. With my temper running low, I drove a few meters to a Caltex gas station where I found someone in greasy overall uniform who did the job in barely 30 minutes. I gave him a tip.
While our routine has normalized, there are still lots of things waiting to be done. For one there are still boxes in our other room with its contents waiting to be transferred to their proper cabinets and shelves which are yet to be made (hint: budget). Others need to be disposed. Then there's also our parking space that we plan to have cemented. Who knows I could do less messy and faster oil change when I don't have to worry about the jack stand sinking into the loose soil.
***
Car talk
Marcus and I stayed very late last night. He played Roblux, I watched TV. I landed on a channel that shows Formula E and watched it for the very first time. I learned that Formula E is similar to Formula One except that the cars are electric but just as fast. Since there is no fossil fuel to pump, the driver transfers to a fully-charged car on scheduled pit stops. Marcus was right to remark that the Formula E cars sound like those in Star Wars. How soon would mankind be driving 100% gas-free cars? Tesla is  around so the answer should be sooner than we expect it.
***
Mood: 3/10 Honks! (Regular Sunday: no more fiesta, no more outing.)
Posted on | May 8, 2016 | No Comments
It is a fact that we find comfort when we hear the word mother. For a mother gives us warmth when we are cold; food when we are hungry; consolation when we are sad; companionship when we are alone; encouragement when we doubt our own self; and love even if do not give her love in return.
Yes, a mother is never selfish. A mother is always willing to go beyond her human capacity. She makes us smile even if she can't. She keeps us healthy even if she isn't. She shows us there is life even if she is dying. That's because a mother is a hero without a cape, not an armor even. A mother is a real life Wonder Woman, forget the glamorous bikini and crown. She does not need to fly to impress for being a mother alone is impressive enough.
You see motherhood is a 24-hour job. A mother becomes jack of all trades when the situation calls for it. She becomes an medic on call; a technician who fixes things; an engineer who builds toys; a magician who transforms a messy house back to its original form–at least for a day. She can be a police officer who maintains order; a lawyer who defends; a customer support who patiently listens to and addresses complaints; a personal chef who cooks great meal on demand. Name it, a mother could and would do it.
So on this special day, here's a salute to all mothers–present and gone, old and young. Happy mothers' day to all wonderful women, especially to my to our own nanay, to my mother-in-law, and to wifey–smile, I'll handle the dishes for now.
***
Mood: 3/10 Honks!  (Drafted  and  published  using  a   broken   phone.)
Posted on | May 2, 2016 | No Comments
This year I discovered, at the expense of the sanity of our neighbors, that I can sing.  I now have a way to get even with those who do the same thing given a videoke and shots of alcohol.
***
Mood: 3/10 Honks! (Civil War day!)
Posted on | April 25, 2016 | No Comments
I have found my second lagoon. In my younger years I hang out a  lot with my friends in Bacolod Lagoon to kill time with our bikes and to test ourselves if we can mimic what we saw on BMX Trix 101. I can't recall if it's on Betamax or VHS format, definitely not on disc, but it's the only video source we have back then–YouTube wasn't around yet. I continued with freestyle until before I got married in 1996.
Years later, I would soon find myself on my twenty-year old Haro bike, stepping on its pegs, figuring out if I can still do either the scuff or rolling tricks that I like to do. And I still can. I am now in the midst of the new generation riders—and I'm lost in their lingo and the names of the famous riders they know. These guys use bikes with small sprockets, low seats, and mostly brakeless. I have an old school setup. One remarked that my Spintech detangler is now only available on eBay. My freestyle bike is the heaviest. But yes, I am among the few here who can do flatland. The rest do street.
I am now on my third week of mingling with whoever is at the Tanuan plaza–yesterday we transferred to their other location as a political campaign was ongoing. I have a list of routines to recover but I was able to do a satisfactory frontyard yesterday and I got a short clip of myself doing a backwards forkwheelie. Need to avoid skinny jeans though.
***
To be with other BMX riders is already almost home but to speak with others in my own dialect makes it a lot better. I did not expect that here in Batangas I would meet others who are from either Ilo-ilo or Bacolod. The guy who can do time machine is from Ilo-ilo while the one from Bacolod (he's here for a vacation) rides with one of the current popular riders, Paulo Gepulango, who happens to be a friend of a Facebook friend. My FB friend is the son of one of my best friends and BMX teammate. Then last week, I was in bike shop whose owner and their mechanic are from Negros Occidental, too. Small world?
***
Mood: 3/10 Honks! (I need a bike rack so I can take Marcus and his wheelchair with me.)
keep looking »