Posted on | July 24, 2016 | No Comments
The first quarter of this year was when I made my slow return to riding my BMX bike again. Our new place is less than five kilometers from a park where local BMX riders hang around. While my riding sessions haven't been as regular as more than 20 years ago, I once again become aware and interested in the country's and international BMX scene. And I can see that BMX sport continues to evolve. BMX riders are now more daring and the new tricks they can do are just unreal. My favorite flatland isn't the flatland that I used to know. Good signs that behind the seemingly common fixies, MTB's and Triathlon bikes, BMX too has become just as popular.
To prove that local BMX is gaining grounds, riders in the Philippines have been celebrating BMX day. It isn't clear though when it first started. Even Google doesn't offer a definite answer if, when and where the first BMX day originated. But July 23 seems to be the D-Day. So on Saturday riders of BMX bikes in the country gathered together in their respective rendezvous. Fans and pros alike pedaled around in numbers in Luzon, Visayas, and Mindanao to celebrate. Knowing the potential of this sport, I would have loved to be part of this celebration.
Back in my younger years, we never had an annual BMX day event. In my days, every weekend is our BMX day and, for the lack of Facebook and social media, I only know that our team was the only BMX freestyler (hint on the term) team in Bacolod City. I even would bet that in the city's BMX community anyone would recognize the name Linear Radicals. We were a familiar sight in the Bacolod City Lagoon—bikes were allowed inside back then. People stop and stare when we start jamming around. We would make heads turn when we do impromptu tricks in the crowded streets during the MassKara festival. There was even a time when we packed our bikes in a small pickup truck and headed somewhere far north to be part of a town's fiesta. There was another team who did the racing event but ours took over the stunt show. Modesty aside, for once, we were famous in our own rights.
Fast forward to 2016, the BMX scene changed a lot. Think of heavy black rotary phone versus sleek smartphones. Change was rad. I remember the first time we saw on Betamax the first time an American perfected the tailwhip air on a vert ramp but locals nowadays can pop one from a bunnyhop. It is just unbelievable to see that the BMX flatland tricks my generation once do are now considered basics. The scuff tricks are now used to progress to far more technical rolling tricks. Even young riders nowadays would transition from one trick to another through a short squeakerson, front yard, backyard, or funky chicken. And did I mention they do all these brakeless?
While the BMX flatland tricks have become more complicated, the BMX parts and its setup is the opposite. It is now common to see totally brakeless bikes which means brake levers, calipers and detanglers are starting to be obsolete. BMX flatland riders also now prefer chainwheels with only 25 teeth and they have also set the seat lower than before. With lesser and smaller yet better parts, what's left is the basic bike that is less cumbersome thus making it an effective street or BMX flatland bike. Despite its simplicity, prices do not come cheap. Popular price range is 10,000-20,000 pesos.
The BMX sport will surely get better and bigger. In the Philippines alone, popular riders like Paulo Gepulango (proudly from Bacolod) and Renz Viaje, who in the recent years joined an It's Showtime contest, continue to inspire new generations of BMX flatland riders. There's also this promising BMX team in Bohol who made me realize that there's more to this place than just its Chocolate Hills and tarsiers—I would definitely try to find where they hang out if I get the chance to travel down south.
Philippine BMX flatland videos always zap me back in time when all we care about is BMX (yup, I've skipped classes for it).  Every time I see one makes a part of me a very young boy eager to get on a bike to see if I can pop a wheelie for starters but another part an old man conceding that what these young lads do aren't for me anymore.  By the way, those guys I hang out with in Tanauan are half my age so I guess I could claim to be their father of BMX. Regardless, I think nobody is too old for BMX so I will remain to be a big fan of this sport and would like to continue seeing more of it. To old-schoolers and young BMX riders alike, more power.
This was also posted on Flatmode Philippines (Official). Paulo Gepulango is this FB page's admin.
***
Mood: 2/10 Honks! (Almost on tip-top shape.)
Posted on | July 19, 2016 | No Comments
"Please fix the creaking hinges of Marcus' room," my wife requested. I didn't bother asking though why it should matter that much. I have gone in and out of our son's room but shrugged off the minor sound the door makes. It's just like one of those tell-tale sounds from a horror movie. No big deal. I thought it was the issue.
But the urgency of her request became clear last night. Our son has been known to sleep very late at night since he was a lot younger. We have even joked back then that he would look better with a night stick. We also called him a call center agent in the making. He is one who would fit graveyard shifts best. He sleeps that late. We have told his pediatrician about it several times but she ruled out insomnia and only suggested a change in lifestyle and sleeping time management.
We have tried all tips and tricks we know on how to make a child sleep early. Remove the TV from the room, checked. Drink warm milk, checked. No electronics in bed, checked. Cool the room, checked. Read bedtime stories, checked. Turn the lights out (he finally agreed just recently), checked. Name it, we probably have done it.
In the past days, however, it has gone from very late to very very late. In fact, I arrived from work this Saturday morning to find out that Marcus has not slept the whole night as he was waiting for me–sweet but it got me worried at the same time. We spent at least two more hours after breakfast of McDonald's meal that I brought home before I and Marcus left his mother to continue working online. We hit the sack together in his dominantly red and black room.
Late last night, I heard wifey asking Marcus to try counting sheep. Oldest yet unproven trick in the book. Fighting the dilemma to let her handle things or to interfere by singing a song (I realized I called in sick due to sore throat), I soon heard our son comply. He started counting. Last count I heard was three. Counting sheep had that immediate effect on me. If only I could swap places with our son.
I woke up in the wee hours of the morning and I almost regret opening the door on my way to the toilet. It occurred to me that in the silence of the ungodly hour, the creaking hinges could awaken Marcus. Knowing his sleeping pattern, I supposed he has barely reached REM state past 2 AM.
Over instant coffee and hot pan de sal this morning, wifey told me that took it an hour or more for Marcus to eventually hit the zzzs. She said our son had some concerns about saying sheep over and over again. "It's like swear swords at some point," he said to his mother. So I tried silently. "One sheep, two sheep, three sheep, four sheep, five sheep, six sheep, seven sheep…." It's possible. Kid's got a point.
Today I sprayed WD40 on the hinges. All three of it. That's one factor gone to help him get better sleep but I doubt it. We need to see his doctor soon. Or maybe we need to change the color of his room first to baby blue.
***
Mood: 3/10 Honks! (Revived the old iPad for writing as my phone's keyboard is a hopeless case.)
Posted on | July 11, 2016 | No Comments
The things anyone can do with Minecraft is limitless. What I once perceived as one ordinary game eventually hits me as more challenging than any other games we have at home. It may sound like an exaggeration but it's not. Our eight-year old son has Halo and Call of Duty (oopps, bad parent) wherein we are able to see his progress. He is also almost done with his Lego Marvel game but not Minecraft. That's because Minecraft is categorized as a sandbox game which means that in its environment anything goes, sky's the limit and its boxy white clouds. It is a game that right out of the package does not have any goal to complete before a player moves on to the next level.
To create something out of single block is the main objective the game. The output could be a simple boxy dog up to more complex designs that resemble famous landmarks and even vehicles. The game continues to evolve and gain popularity which is not surprising that Microsoft invested billions to take ownership of this game.  Minecraft is a virtual building block game that my generation once wished we would have. So props to Mojang for finally giving our kids the option to build stuffs without us parents emptying our wallet although in the process we need to expect them begging for new skins and texture packs. I have so far resisted most of it plus the fact that my credit card won't allow me to purchase anything anymore.
Gamers who want more excitement have options other than Minecraft's creative world. The game also has survival and adventure worlds, each of which has its own challenges. I honestly can't distinguish between the two but the shrieks and yelling I have heard from our son Marcus tell me that he has switched to either of these options. This game has its hell and creepers so trust me, it could be scary. On days when Minecraft Xbox turns boring, he would play its PC version where he spends hours on different Minecraft servers interacting with players somewhere in the globe. More screaming happens here.
Parents and kids alike would find a wide range of Minecraft references and resources available online. On Youtube.com there are channels of popular users like DanTDM and EthanGamerTV (who recently turned 10) and PopularMMOs. Our son is a big fan of these Youtubers. He would love to see DanTDM and his pugs but he has set his eyes to meet PopularMMOs once we get in the US. There's also Minecraft Forum that I have used to troubleshoot most Minecraft PC errors. Marcus started his own Youtube channel last month so you might as well check it—maybe after five years from now.
Books have also been published for Minecraft. Yes, books like those made of sheets of paper that you flip to transfer to the next pages. Books with hard covers that are meant to protect the paper pages. And we recently bought one for Marcus to encourage him to read more but last night I found out that he peeled off the spine of one of his books. Thankfully it is not the Hacks for Minecrafters book but I told him that he is banned to play his newly upgraded Minecraft Xbox for a day anyway. It slipped my mind though that he has Minecraft PC. Parenting is tough, isn't it?
***
Mood: 3/10 Honks! (If we could only switch the weather like in Minecraft.)
Posted on | July 10, 2016 | No Comments
My Facebook timeline was recently full of posts featuring wheelchairs. It made me wonder then if it happens to be wheelchair awareness day. I didn't bother to check. Today a post from my elder sister shows a concept wheelchair that could make the less mobile live more independently. This one's the future of wheelchair. The video is on Facebook.
So is it wheelchair awareness season? Mobilityawarenessmonth.com says it's May but it's nice to know anyway that there seems to be a growing and sustained awareness on the needs of people who have limited mobility. May we soon see more people-with-disability-friendly places.
***
Weather was ideal last Sunday so I grabbed the opportunity to have Marcus take a morning stroll. He enjoyed it.

Today's weather, however, isn't as good as last week's so as of this writing, past 1 PM, we let Marcus stay asleep. Thanks but no thanks to tropical storm Butchoy that despite having exited out of the Philippine area of responsibility is still making the skies dark every now and then. There's always a next time.
***
Mood: 5/10 Honks! (Cats are dying.)
Posted on | July 7, 2016 | No Comments
My Facebook timeline shows that a year ago today I posted The Wheelchair Didn't Stop Them and interestingly other posts related to wheelchairs appeared as I scrolled down. So I am now wondering if it is wheelchair awareness day today. Is it?
Mentalfloss.com reports that Xbox will soon feature avatars of people on wheelchair. I am quite sure that Marcus would be very happy to see such on Xbox though it is more likely going to be for Xbox One consoles only looking at the icon on the flags.
The Lad Bible also posted a video from a helmet-mounted camera of a motorcycle rider stopping at a crosswalk to aid a guy in a wheelchair cross the street.
There are people, however, who are either ignorant or just insensitive to the needs of the handicapped. Like another photo that Top Gear Philippines posted today about one of those people who learned how to drive but never learned to read the signs.
***
Mood: 5/10 Honks! (Storm's coming.)
Posted on | July 5, 2016 | No Comments
I have resolved the issue on the slow loading of the visual editor on the admin page but it was neither due to adding the script define( 'CONCATENATE_SCRIPTS', false ) on wp-config.php nor updating the wp-includes/js/tinymce/wp-tinymce.js.gz. I have disabled also the plugins except for Akismet but this did not do the trick either. I switched the theme from Element of SEO to the default Twenty Eleven and somehow it fixed the issue although it still does not perform than it used to plus the fact that I don't like how the site now looks like. I am hoping that Google will soon lead me to the right solution. The site currently loads better on Firefox but I would love to see it working on Chrome soon.
***
Mood: 4/10 Honks! (Buried a blind cat.)
Posted on | June 26, 2016 | No Comments
Yesterday we added another tick mark to our married life. This time there's no hotel accommodation, no buffet food, just the simplest we can ever think of. But simple as it may seem, it was still one that we would cherish as we made it happen almost against all odds. Marcus and I were recovering from colds and wifey just had a day after she gave the thumbs up that her lingering stomach pain settled down.
Now based in Batangas, and with budget in check, Alabang was our best bet. It wasn't really the closest but it is the only place that would give us most options for a decent celebration which would satisfy everyone else's idea of good day out. Its proximity to a church, malls and choices of resto were factors we considered.
Lunch was at Chili's. We convinced Marcus who initially was thinking to be at the nearby Acacia Hotel and then take a quick dip at the pool. He loves the hotel so much that he can recognize it from his mom's telenovela series—and even pictures on Facebook—and has been begging to return since we checked in last year. The word tacos made him agree to step into Chili's though he soon discovered the tacos in real life do not appear how it does on his Roblox game and that it has some hint of cheese which is one thing he hates the most. Plus the song It's Raining Tacos didn't play in the background.
A stroll to the mall was good enough to burn the calories we packed courtesy of Chili's' humongous burger, baked beans, tacos, and chicken and pasta. And just when we thought the remainder of our day would be all about window shopping, Kidzone offered us something new: a Virtual Reality adventure.
We were on SLEX before three in the afternoon as we do another attempt to hear mass for the day as we came in too early for the morning mass in Alabang. We decided not to get Marcus out of ATC to St. Jerome Church as the change from the cold mall to the noontime sun would be detrimental. But rain poured hard as entered Batangas and with such condition we cannot get Marcus out of the car to his wheelchair so we cancelled again. Anyway, we hope that God would understand, as always the case. May he grant us another wonderful year with all the three of us together to celebrate another milestone.
***
It appears that we have to accept the fact that the way we celebrate our anniversary has changed over the years. The date for two is obviously over and the one who gets the gift now is neither of us. That's parenting I guess.
***
Mood: 1/10 Honks! (Happy anniversary to us!)
Posted on | June 22, 2016 | No Comments
I finally found the right place for me to place a clock inside our toilet. I have been wanting to have one back in Cavite but we just never had the perfect clock and the perfect place. Now, everything fits and one good thing leads to another.
Thanks to wifey's eagerness to free up more boxes that are still waiting to be unpacked and sorted she had this very creative idea to place some of Marcus' toys on the coping inside our toilet. The motorcycle clock is not alone anymore.
***
Mood: 2/10 Honks! (Time flies, just reached my 5th year at work.)
Posted on | June 13, 2016 | No Comments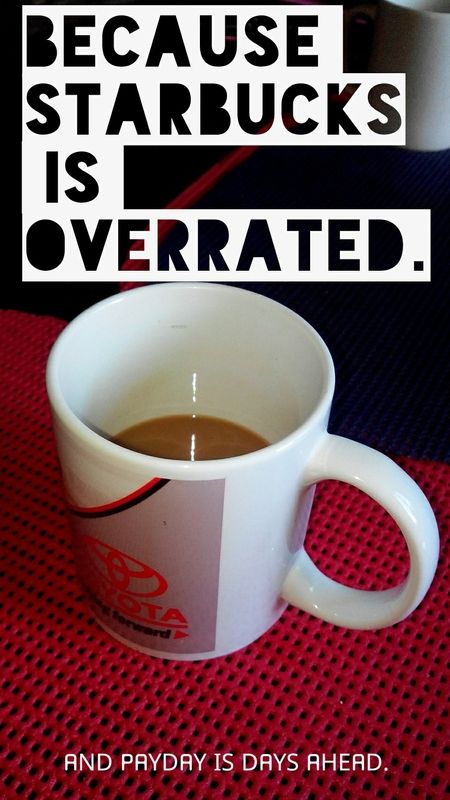 Posted on | June 12, 2016 | No Comments
I checked the clock and the day has just gone past its first 30 minutes. As usual, my short trip to the parking lot was full of anticipation. In a few hours, when I wake up inside the car, my night shift ends and once again, it's the weekend. For the nth time, another two work-free days coming in close. Like any participant of this rat race, I look forward to Saturdays and Sundays.
Look forward to. Three short words, an anticipation of something exciting or just plainly to express relief that once again a somewhat boring routine will once again end—more often than not, to be started by another routine. Maybe life after all is a cycle of routines, boring routines (oh pardon the pun, the redundancy, the pleonasm).
Let's face it. Anything that is routine bores. Even those doing the most intense in the eyes of other people would yawn at some point of their activity. I wouldn't be surprised if triathletes get bored at some point of their run ("Ho-hum, I think his tribike is better than mine"). CEOs would get tired seeing the same range of profits thus the explainable craving for more ("Check our credit rating, call this guy from Dun and Bradstreet…"). And there are in fact artists who hate their own famous songs—I googled, mentalfloss.com has a list. Yup, that's just how boredom works.
So what do other people look forward to at the end of the day, at the start of their mornings? How about our son? Such thought struck my mind when I remembered Marcus as I caught myself staring blankly at the colorful sweet 'n sour wriggly worms in the convenience store's shelf—few minutes after my broken MyPhone screamed its ever annoying alarm tone. His life cannot be Xbox and Roblox and Lego games all the time. I know that sooner or later even our new cable subscription will become lame and boring. More so, that starting this week is when every kid in the neighborhood goes back to school except him.
There must be a way that we can bring some new routines to Marcus' life. We must make more effort to make him look forward to something exciting, if not new, in his daily routine. I have already suggested to him that he starts reading books each day so that he discovers something other than those coming from his YouTube feed (FYI, he has started his own channel). At the onset, as we have expected, he protested at our (boring) idea but yesterday I heard from wifey that he is excited to spend his one-hour reading period this Monday. Our fingers tightly crossed.
***
I eventually brought home the Potchi gummy worms and Marcus said to his mom that the candies are right out of their Slither.io game.
***
Woke up in the wee hours of the morning when I noticed Marcus stretched out in bed and I realize just how taller he has become.
***
Mood: 4/10 Honks! (The lambanog did not do its job, will need more sleep later).
keep looking »